Welcome2010
Los Altos Robotics is dedicated to providing the opportunity for our children to challenge themselves and experience the joy of building and programming robots.
---
2010 FLL Season Information
Updated September 3, 2010:  
Los Altos Robotics events for 2010 FLL season are:
I need a team programs kicks-off on Sunday August 29
Parent Orientation, Tuesday, September 7, 2010 at 7:30 pm at Oak Avenue Elementary School Multipurpose room. 1505 Oak Avenue, Los Altos, 94024
Pre-Scrimmage Q&A, Saturday, October 16, 2010 3:00 - 4:30, Oak School
Scrimmage, Sunday, October 17, 2010 12:00 - 4:30, Blach School
Project Share-a-thon Sunday, November 7, 2010 2:00 - 4:30, Oak School
Official Qualifier Tournament, Sunday, November 14, 2010 12:00 - 6:00 Blach School
For registration information, please visit the Participating in Los Altos Robotics FLL page first and then email Michael

LosAltosRobotics.Org or call Michael Schuh at (650) 965-8037 if you still have questions.
The scrimmage is our mid-season event to let kids practice running the robots under simulated tournament conditions and see what's really working. The pre-scrimmage Q&A helps teams with interpreting the scoring rules. The Share-A-Thon is an opportunity for kids to share their research project results with the community and get feedback for their presentations at the tournament. The tournament is an official FLL qualifier tournament for Northern California. To get involved , you will need to organize your own team and register with Los Altos Robotics, NorCal FLL, and the national FLL organization. Then you can sign up your team for tournament events.
Los Altos Robotics runs the local FLL tournament and provides information for teams in the community. We do not organize teams but we do provide links to related web sites and have an "I need a team" program to help teams in the local community find other team members. The 2009 Parent Orientation presentation is useful. We also provide the TigerBots email list for local event announcements. Send an email to Michael Schuh to be added to this list.
The Los Altos Robotics 2010 First LEGO League Flyer (PowerPoint version) was used to advertise the availability of the FLL program to children in Los Altos and Los Altos Hills. This shorter text only announcement was given to the Los Altos school district office to be distributed to the Los Altos and Los Altos Hills students. Feel free to distribute them to anyone you think might benefit from seeing it, such as potential team members and coaches.
NorCal FLL is the official FLL organizing group in Northern California. They provide information on how to organize and coach teams. They also provide a central registration for all Northern California tournaments including Los Altos. They have a web site, community forum, and email announcement list at NorCalFLL.org , NorCalFLL Community . They have a 2010 Tournament Registration page. They say that teams must register, pay, and send in their liability release forms absolutely no later than by 10/8/10.
FLL is a worldwide program with over 12,000 teams involved. The official web site is: FLL Worldwide . They run the official USA FLL team registration site and ship out all Challenge sets and FLL robot kits. For local teams, start with the Los Altos Robotics web site and the NorCalFLL web site to get instructions for organizing your team. You will be directed to the USA web site as needed.
Good luck. If you have any other questions feel free to contact:
Michael Schuh Michael

LosAltosRobotics.Org, (650) 965-8037 (Home), or (650) 604-1460 (Work)
---
See what FLL is about in this video from the 2004 Los Altos local FLL tournament, No Limits. The second video is sights and sounds from the 2005 Northern California NCaFLL Ocean Odyssey state tournament:

---
Team Web Sites
We Ate The Mat Web Site:   with links to Open Source NXT Programming Environment.
Los Altos Geek Squad  video of the 2009 award winning robot
Click Here to let us know links to other FLL team web sites.
---
Program Overviews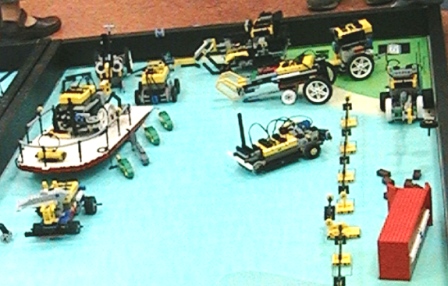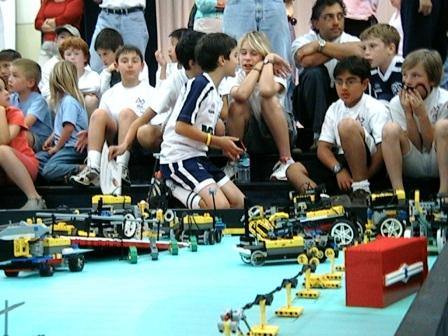 If you would like to promote FLL in Northern California, please make a donation as a corporate sponsor or individual, to the NCaFLL coordinator, Playing At Learning, a 501c non-profit corporation.
---
Los Altos Robotics Scrimmage and Tournament
Tournaments are lots of fun for spectators. If a child may want to participate in the future, they can stop by the event for an hour to see what it is like. If you are already a participant at another venue, please do not video robots. If you would like to help run the FLL tournaments, please email or call at the contact information listed below. Participation is great fun and great way to give back to the community.
---
Recent Robotics Competitions
The 2009 season was great. Check out our FLL History page for what happened in 2009 at Los Altos and in NorCalFLL tournaments. We also have history of prior years including many videos.
---
State and National Award Page
Most robotics teams have fun, work hard, learn a ton, and demonstrate gracious professionalism. A few of our local area teams have also been fortunate enough to be recognized at some of the major state and national robotics tournaments. The Los Altos Robotics State and National Team Award Page recognizes those teams and we hope inspires future teams.
---
Contact Us
Los Altos Robotics was formed in 2004 to organize and promote robotics activities in Los Altos and surrounding areas. Los Altos Robotics board members have organized FLL robotics tournaments in Los Altos since 2001. This organization now contains a board of about 10 dedicated volunteers. If you want to volunteer, send one us an email and come to a board meeting. Meetings are open to the public. Click here to see the Los Altos Robotics board and a list of the upcoming board meetings.
For general questions, comments, or suggestions, please email Webmaster

LosAltosRobotics.Org.
---
Join and Log In Links
The Los Altos Robotics web site join and log in account is intended only for coordinators. If you are currently a member of the TigerBots email alias, you will receive the information you need in your email. If you have an account, you can login here and logout here.