Los Altos Botball Community Team
The Los Altos Botball Community Team first started in 2003. We have fielded one or more competitives team every year since.
Botball is a robotics program designed for Junior High School and High School Students. It takes place in the winter and spring. For more information, contact Michael Schuh at Michael

LosAltosRobotics.Org or (650) 604-1460.  See boardsailor.com/botball for more information on how to participate on a team.  While most team members are from Los Altos and Los Altos Hills, there are many team members that live in neighboring towns from as far north as Atherton and as far south as central San Jose.
2011 to Current Seasons
As of the 2011 season, the Botball team description and registration information was moved to boardsailor.com/botball.  See that page for current information about Botball in the Los Altos area.  In 2015, we had six Botball teams with team members from San Jose to the south to Atherton to the north.
2009 and 2010 Seasons
Check out the Botball page for 2009 and 2010 results.
2008 Season
2008 was an incredible season for the Los Altos Community team. Here is a two page writeup on the season and below are some videos showing the robots and team in action. The team used these presentation slides to describe there robots at the April 2008 Regional competition. The slides talk about their goals and strategy, document how the robot functions, show their scoring plan, and more.
Los Altos Community Botball Team Places 2nd overall at Internationals, the best overall finish ever for our local team!
Here are some videos: On the left side is the Los Altos team at Botball Internationals getting the highest score in the seeding round, an amazing 240 points. They also won the judges choice award for creative use of the iRobot Create robotics platform. Evergreen, another bay area team, and Los Altos both made the final 4 (from 64 teams) in the elimination rounds at Internationals! Evergreen helped eliminate Los Altos on the way to 2nd place in elimination rounds. Mission and Hillsdale, also from the bay area, went to Internationals too and won 5 matches each to get in the final 16 before elimination. A great event for the bay area teams.

The second video is an excellent production by Nease, one of the teams that made the final 8 at Internationals. They have an excellent pit-crossing robot that lays out a bridge blocker and then puts down it's own bridge to cross the pit (and avoid being blocked by the other team). This gives you an idea of the type of competition at Internationals.



Los Altos Community Botball Team Places 1st in elimination rounds and 1st overall at the April 2008 Northern CA Regionals .
The following exciting video production is from Mission San Jose, winning their semi-final round against Hillsdale to meet Los Altos in the final. The last part of the video is the final match where Los Altos crosses the bridge to disrupt Mission from scoring cups. Thanks to Carl Gao from Mission for his video production and especially to Anand, who you hear in the background, for his color comments.


2008 Season Team Formation Information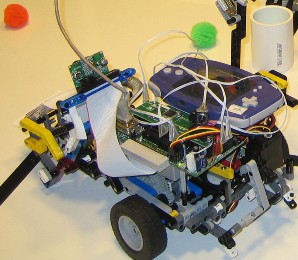 It is time for Jr. High and High School students to sign up for the 2008 Botball season. Botball is the next logical step up from FLL in terms of robotics because it uses more complicated LEGO robots with a more advanced controller. Travis and Parker put on a Botball demonstration in the middle of the Los Altos FLL Scrimmage held back in October. We will be starting the 2008 season with an informational meeting at our home on Friday, January 18 from 7:30 PM until 8:45 PM. If this date does not work for you, please tell us and we will schedule an additional informational meeting for you. Team meetings will be on Fridays starting on January 25. After February 24, we will also have meetings on Sunday afternoons. The season will culminate in an all day competition on April 19. Applications are due by January 25. The Botball program description and application are also available at www.boardsailor.com/botball.
Botball Spring 2008 Competition Information and Application
2007 Season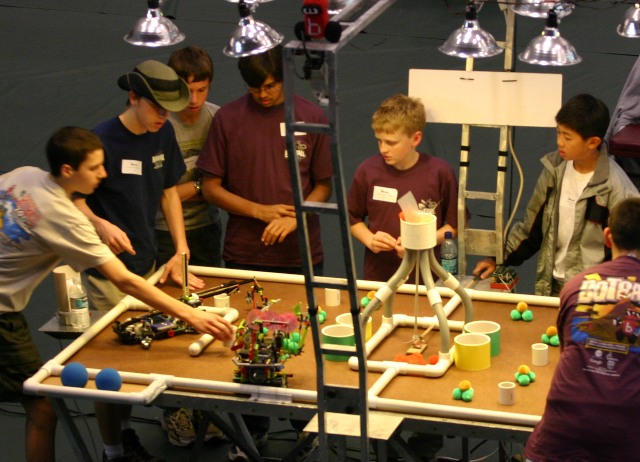 The Los Altos Robotics Community Botball team won the 2007 Botball & Beyond CAD Contest.  Go to the Botball CAD Contest page to view the video.
Contest Goal: Create a movie, animation, or sequence of images that explain your Botball or Beyond Botball robot system: how the robots work, what they will do during seeding, and how your robots will handle themselves when faced with opponents in the head to head. Your entry should primarily be informative about your system, accurate in modeling and strategy, and, where possible, artistic and entertaining. This is a CAD (Computer Aided Design) contest, so your CAD work should be front and center.
2007 Northern California Competition Results - We did really well!
Overall: 2nd Place
Seading Round: 1st Place
Double Elimination Round: 2nd Place
Judges Choice Award: Most Effective Strategy
Judges Choice Award: Excellence in Programming
Botball Homepage
Botball Program and Game Videos
2006 Season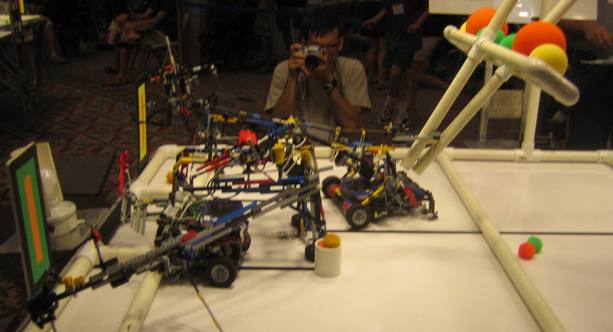 We attended the 2006 July 7-10, National Conference on Educational Robotics was held in Norman Oklahoma.
We received a Judges Choice award for being inside the box, and using all of the pieces.
Austin won the High school Robot Olympiad competition with a score of 60 out of 65.
Parker won the Middle School Robot Olympiad Competition with a score of 32.
Michael won the Adult Robot Olympiad Competition with a score of 59.
Travis and Austin received an award each for presenting a paper.
After the competition, we were sent a poster that was signed by all of the Botball staff. They were thanking us for helping out and being a fun team to be around.
We scored 20 points, 17 points, and 2 points for an average of 18.5 points in the seeding round. In the Double Elimination, we lost our first round, won the next two, and then lost the last one. We went out just before the top 16 finalist cut off.
We attended the April 22, 2006 Northern California Botball Competition at Santa Clara University.
We tied for First Place in the Documentation part of the competition. However, we scored 0 points in the seeding round and lost all of our double elimination rounds. Our design was too aggressive and failed to work at all in the competition.
2005 Season
The Los Altos Community Botball team won first place at the 2005 Silicon Valley Regional Competition on April 23, 2005 at Santa Clara University. Through generous support from the local community, friends, and family they also competed in the Botball National Competition in Jacksonville, Florida on July 13-17, 2005. There, they were finalist in a very competed field and were awarded the Judges Choice award for "Excellence in Engineering and Sportsmanship".
They used this flier to help raise funds for going to the July 2005 National Competition. It shows the robots and describes the team's success at the regional competition.
Botball is a relatively expensive program with a cost of $2400/team per year for the regional competition and more if the team decides to compete in the national competition. We appreciate the support we have received in the past from people in the local community and the Los Altos Rotary. If you would like to help support the 2006 Botball team, please contact Michael Schuh by calling (650) 604-1460 or by sending email to Michael

LosAltosRobotics.Org.