Los Altos Robotics FLL History Page
This page contains writeups and announcements that chronicle the activites of the Los Altos Robotics Community group and teams. Often times these items first appeared on the home page and then are moved to this page. The most recent information is at the top. Also see the FLL/Competitions and FLL/Resources pages for materials from each season.
2009 FLL Season Information
Updated Jan 17, 2010 :   Northern California State Tournament Update
WOW!! This was an exciting weekend at NorCalFLL! The robots at this tournament were really impressive and a lot of teams seem to benefit from the extra regional tournament level this year. Mission strategies and attachments for some of these bots were very advanced and polished. I can imagine the judging sessions were pretty impressive as well. The Norcal state tournaments have always been exciting, but this smaller tournament with 48 high level teams was more fun to watch and a little less hectic than the 64 team events of prior years. I heard that judging and everything went much smoother this year. I felt in general that teams and event volunteers looked like they were focused, organized, and having a lot of fun.
The competition in robot performance this year was very close with the top 20 teams posting in excess of 330 points. The early robot performance leader was Antipodes , a strong team of 3 middle school girls from Pacifica. Their bot was rock solid smooth and the mission solutions were very creative and efficient. They posted a 380 and 400 for their first 2 scores with 2 more attempts still to go!! Los Altos Geek Squad  and We Ate The Mat , who both had impressive pneumatic robot arm attachments, had some early robot issues and posted max scores of 330 and 315 after 2 rounds, both sitting outside the top 10. Advanced attachments can be high scorers, but often require more adjustments than something simpler.
The competitions got more interesting after lunch starting with Geek Squad posting a 400 to jump to 2nd place behind Antipodes. Geek Squad left for judging and while they were away, Antipodes posted 2 360's for their last 2 scores - an amazing show of consistency. We Ate The Mat appeared to be posting a good score on round 3 when a loop flipped off the bot just before getting back to base. This cost 30 points since this eliminated the bonus loops too and they posted a 335 on the run.
In the final round, We Ate The Mat was sitting in 18th place with a 335 and only one more chance remaining to post a score. Confidence in the bot was being severely tested. However, most of the hard things had been working so they stayed calm, carefully went through their checklist, and then posted a 400 to jump to second place behind Antipodes and just ahead of Geek Squad. The creators of FLL made a smart choice of using high score rather than average score to decide the robot performance competition - not only does it promote higher risk designs, but it keeps these competitions exciting to the last minute since there is always a chance to get that one big run.
Los Altos Geek Squad, not to be deterred, was one of the last teams up for the day and calmly posted an amazing second perfect score of the day, two 400's in a row, to jump past both WATM and Antipodes to 1st place overall in robot performance. They edged out Antipodes by a mere 20 points in both teams 2nd highest score of the day.
However, the story in robot performance was not just about these 3 teams. There were at least 10 teams who appeared to have the ability to get a perfect score and it seemed every time I looked at the big screens, at least one of the bots was doing something amazing. One of my favorites was the one that climbed up and jump off the edge of the bridge - reliably!!
In the Awards Ceremony, Los Altos Geek Squad, Antipodes, and We Ate The Mat finished 1-2-3 in Robot Performance Awards. We Ate The Mat placed 2nd in the Overall Champions Award, the first Los Altos team to place in the Champions category at state since the Lego Legends in 2006. Los Altos Geek Squad placed 1st in the prestigious Robot Design category and also won 3 of the new "kids choice" awards for their impressive robot designs and attachments. The overall Champions winner was Legonauts, a strong 7 member team from Folsom, and the outstanding Antipodes team from Pacifica finished 3rd in the Champions Award Category.
We Ate The Mat (Steven, Brian, Toby, and Jeremy) and Los Altos Geek Squad (Kevin, Clarence, and Spencer)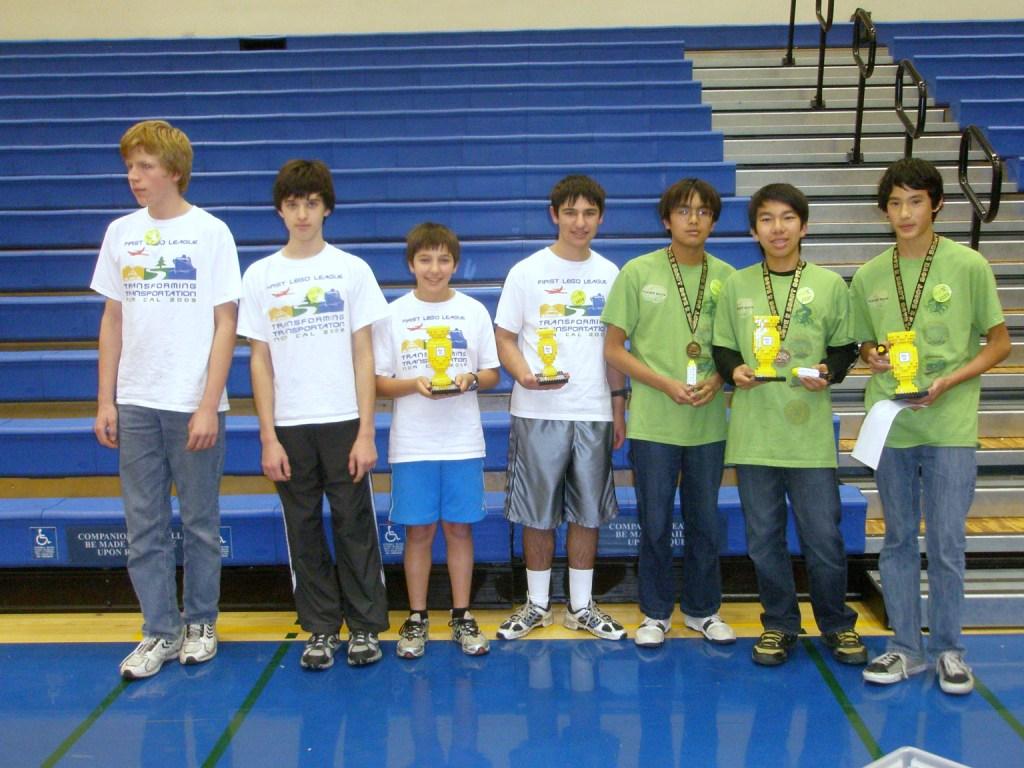 Other Los Altos area teams at state were Sapphire Force, who won a kids choice award for their pit signs, and Smart Navigators , who had an excellent rookie team competition. Complete results for Northern California FLL Championship are posted at NorcalFLL Web Site.  The National web site is at: US FIRST . Congratulations to all of the Los Altos teams who competed in the Regional Qualifiers including: Fortune Cookies, LEGO Lightning, and Bionic Brother, won 1st place in the Robot Design Category at the Regional. In addition, thank you to all teams that participated this year in the 2009 Los Altos Qualifier.
Remember that in FLL, what you learn is more important that what you win . Reminding yourself of this helps you stay calm when the intensity of the competition starts to build.
Updated Oct 12, 2009 :   Los Altos Robotics events for 2009 FLL season are over:
Scrimmage, Sun, Oct 25, 2009
Official Qualifier Tournament, Sat, Nov 21, 2009
The scrimmage is our local early event to let kids run the robots at an early stage and see what's really working. The Tournament is an official FLL qualifier tournament as described at US FIRST .
Los Altos events are open to the public and admissions is free. Events are lots of fun for spectators. If a child may want to participate in the future, they can stop by the event for an hour to see what it is like. If you are already a participant at another venue, please do not video robots. If you would like to help run the FLL tournaments, please email or call at the contact information listed below. Participation is great fun and great way to give back to the community.
The Los Altos area parent meeting was on Thursday Sep 10, 2009. There is no Los Altos coaches training scheduled for this year though there is web-based training provided by NorcalFLL.  Good luck and have fun.
Sep 15, 2009 (Updated Sept 24):   PowerPoint Slides (pdf version) from the Sept 10 parent meeting. Thank you Michael Murray.